$20,000 personal loans
There are times in life when you have larger expenses like financing a new car, a wedding or covering medical expenses. Or, maybe you have multiple debts that have mounted up and you'd like to consolidate them and make them easier to manage. A $20,000 personal loan might be just what you need to finance these expenses.
A personal loan for $20,000 can be used for almost anything you want, but first you'll want to understand what options are available to you. Relax, Reprise Financial is here to give you tips and information before you apply so that you can find the perfect solution for your needs. Our Reprise resources are dedicated to helping you make the best money decisions possible with financial education right at your fingertips and answers to your most frequently asked questions.
Can I get a personal loan for $20,000?
Depending on your credit profile, including income and other information provided in your application, different options will be available to you for your $20,000 personal loan. Whether you have a perfect credit history, you're restarting or you've hit a few bumps along the way, Reprise can help you find the personal loan that's right for you with an easy online application that can get applicants the funds they need quickly with no pre-payment penalties.
Types of $20,000 personal loans
When you're deciding which $20,000 personal loan to apply for, you'll likely have to decide between a secured loan, which requires collateral, and an unsecured loan.
Secured
To take out a secured personal loan, you'll need to be prepared to offer a piece of collateral, or something valuable. For example, vehicles can
serve as collateral for some loans through Reprise Financial. In the event that you don't repay the loan within the agreed terms, the lender will then be able to take possession of the collateral. Personal loans secured by collateral, such as your vehicle, can offer benefits including lower interest rates, lower payments and access to higher loan amounts.
Unsecured
With an unsecured personal loan, you won't have to offer any collateral in the case of default, and the lender won't be able to automatically seize your property. However, with an unsecured loan, you may encounter higher rates and lower loan amounts because there is no collateral and more risk to the lender. Additionally, not all lenders may offer larger loan amounts without collateral.
What is the monthly payment on a $20,000 personal loan?
Your monthly payment will be determined by the interest rate on the loan as well as the repayment term. Unlike credit card rates and payments that can fluctuate, personal loans through Reprise come with fixed payments and no pre-payment penalties should you choose to pay it off early. Available repayment periods vary by lender, and interest rates can also vary depending on your credit history, income, and whether you have collateral available to secure the loan. Interest rates on loans through Reprise Financial range from 9.99% to 36% APR.
How do I apply for a $20k personal loan?
Once you've decided to take out a $20,000 loan, you can begin your application and submit your documents. With Reprise Financial, you can apply online from the comfort of your own home, and funds are available next business day after approval.
Where can I get a $20,000 personal loan?
Online lenders can offer a quick and easy way to be approved for and compare several rates and financing options from the comfort of your own home. If you're looking for a quick decision, you may be able to pre-qualify for a loan within minutes. Additionally, they can offer approvals within just a day or two, so an online lender could be the right option if you have urgent financial needs.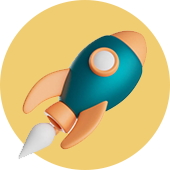 Apply today &
have your money
as soon as tomorrow.
What are the pros & cons of personal loans?
PROS
Flexible and fast
Personal loans can offer a flexible and fast option for financing a number of projects. Many loans require that you use the funds for a specific purpose, such as car loans and loans for businesses. However, a personal loan allows you to borrow a lump sum of money and decide what you'll do with it. They can also offer more flexible repayment terms and a wider variety of lenders.
CONS
Higher interest rates may be a possibility
Personal loans can come with higher interest rates than other traditional loans. Additionally, personal loans may provide for higher fees, including late penalties, than other forms of borrowing, and have higher monthly payments than credit cards.
Have questions?
Get answers to your common questions
Loan Offers in Seconds
View your offers in a few seconds without affecting your credit score.
Flexible Options
We have the customized options to meet your needs and your payment preferences.
Fast Access to Your Loan
Funds can be available in your checking or savings account the next business day after approval.
When you are ready to take control of your finances, there's Reprise.
Through Reprise Financial, getting back your financial freedom is as easy as 1-2-3.
1
Apply today
You can be pre-approved in minutes
2
Get your funds
Get your funds
as early as tomorrow
3
Cash in your pocket
Use it for the things you need or want
Things to consider before applying for a $20k personal loan
Before applying for a $20,000 personal loan, it's important to first understand the purpose of the loan and what you'll be using the funds for. You'll want to research the possible interest rates, fees, repayment terms and other conditions that different lenders offer with a $20,000 personal loan. Online reviews are also a great source of information for understanding customer experiences with different lenders.
How do I qualify for a $20k personal loan?
To qualify for a $20,000 loan, you should be prepared to submit an application with your personal information, including employment and annual income. You should have documents available to verify your identity, address, income and employment. Some lenders may also request proof of collateral, such as a motor vehicle, to secure a personal loan.
How quickly can I get a $20,000 loan once approved?
To receive your funds as quickly as possible, be prepared to provide proof of income, proof of identity, bank statements, and any statements from current creditors. Through Reprise Financial, you can have your funds as soon as the next day after your loan is approved.