Get the cash you need for dental health care
There are so many reasons to invest in your dental health. Our teeth play an important part in our ability to eat, speak and communicate with others. Most importantly, good dental health care contributes to your overall well-being. According to the Oral Health Foundation, "A healthy smile can truly transform our visual appearance, the positivity of our mindset, as well as improving the
health of not only our mouth but our body too." ¹
However, preventative and restorative dental care costs can be expensive, especially if you don't have insurance. This is where dental loans can come in handy to help you cover costs without putting a strain on your savings.
What is a loan for dental work?
Having regular dental checkups to prevent, diagnose, and treat oral diseases is essential and can be expensive, but loans for dental work can help. A dental loan is a personal loan that you can use to pay for almost any kind of dental care. You can use these loans to cover a wide variety of dental work, from preventative care and cleanings to getting a filling or root canal. You can also use personal loans to cover oral surgeries and cosmetic procedures such as crowns, bridgework, or dental implants.
What are the ways to finance dental work?
There are a few options available when you need cash for dental work. You may be able to apply for financing through your dentist or orthodontist's office. You can finance through a traditional bank. You can also take out a personal loan through an online platform like Reprise Financial. A personal loan for dental expenses can be used for almost any purpose, from preventative cleanings to oral surgeries, and may help you manage your costs without draining your savings. If you urgently need money to pay for a dental procedure, an online lender may be your best option. Many of these lenders provide the option to apply online in just a few minutes and, depending on their processing requirements, may offer same-day approval. Plus, an online lender might be able to offer you flexible repayment terms.
Can you get a personal loan for dental work?
Yes, personal loans can be used for almost any personal expense, including dental costs. A personal loan for dental and orthodontia may offer even greater flexibility than financing through a dental office. With a personal loan, you will receive the cash you need upfront in a lump sum and then can use it any way you'd like. For example, you can use the funds for routine cleaning plus cosmetic
procedures to help enhance your smile. Online lenders can help you find the dental loan solution that's right for you.
When you are ready to take control of your finances, there's Reprise.
Through Reprise Financial, getting back your financial freedom is as easy as 1-2-3.
1
Apply today
You can be pre-approved in minutes
2
Get your funds
Get your funds as early as tomorrow
3
Cash in your pocket
Use it for the things you need or want
Can I use a personal loan for cosmetic dental procedures?
Not only can funds from a personal loan be used for preventative and restorative dental care, but they can also be used to finance orthodontia and cosmetic dental procedures that improve the appearance of your smile. Our smiles are a big part of who we are. They help us connect with other people and build our self-confidence. Whether it's braces, dental implants or whiter teeth, money from a personal loan can help give you a brighter smile. You can even use funds from a personal loan to cover the costs of new dentures.
Can I use a dental loan for my family?
Personal loans for dental expenses can be used to pay for any dental work that helps you maintain the health of your teeth, jaw, and gums. They can also be used if your spouse or children need preventative or cosmetic services. Once you receive the funds from a personal loan for dental expenses, you can use it toward the oral healthcare of anyone in your family.
Can you get loans for dental work with bad credit?
There is not one credit score that will qualify you for a personal loan for dental work. Online lenders will look at the total picture of a person's application to find a product that works best for each applicant. Even if you have limited credit history, you still may be able to obtain a personal
loan for your dental care. Reprise works with individuals with all kinds of credit history to find a solution that's right for them.
Reprise Resources
Check out our Resources Page for up-to-date financial tips and information.
Credit Score
Five simple steps to improve your credit score no matter where it falls on the credit report.
Loan Options
Learn the different benefits between credit cards versus installment/personal loans.
Retirement Savings
The answers to the most frequently asked retirement savings questions.
Life Happens. Reprise is here to help.
Fixed monthly payments
Loan amounts from $2,500 to $25,000 ²
Use one personal loan for multiple projects or unexpected emergencies
Secured and unsecured loan options available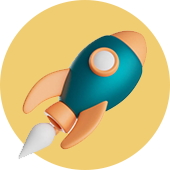 Apply today &
have your money
as soon as tomorrow.
Easy, online application
Fixed rates & clear terms
No pre-payment penalties
Fast & easy access to funds