Get reliable funds to cover the costs of your move.
Moving is a stressful activity in itself. Whether packing or sorting old things, carrying heavy furniture, or taking inventory of a growing to-do list, it's usually not fun. Add in the high cost of moving services and it can become even more stressful, especially if you don't have the cash to pay for the moving costs upfront.
A move across town can often cost over $1,000, while a cross-country move can require even more funds. That's where financing comes in. If you don't have the cash to pay for all the expenses associated with your move, you might be able to cover the costs through a personal loan or line of credit. A personal loan could get you the funds to cover truck rental, storage, or even a moving company. With Reprise, you can get reliable and fast funds to pay for the expected – and sometimes unexpected – relocation costs to take the stress out of your move.
Can you finance moving expenses?
It's possible to finance moving expenses through personal loans and credit cards. Some employers may also offer assistance with relocation if you're moving for work. Whether you're moving for professional or personal reasons, multiple financing options are available.
How does moving expense financing work?
Financing for moving expenses is often done through personal loans, which offer a quick, flexible way to finance most things. Once disbursed, borrowers can use the loan proceeds on expenses that they deem necessary, including transportation, packing, repairs, and even new furniture.
When you are ready to take control of your finances, there's Reprise.
Through Reprise Financial, getting back your financial freedom is as easy as 1-2-3.
1
Apply today
You can be pre-approved in minutes
2
Get your funds
Get your funds
as early as tomorrow
3
Cash in your pocket
Use it for the things you need or want
Have questions?
Get answers to your common questions
Reprise Resources
Check out our Resources Page for up-to-date financial tips and information.
Credit Score
Five simple steps to improve your credit score no matter where it falls on the credit report.
Loan Options
Learn the different benefits between credit cards versus installment/personal loans.
Retirement Savings
The answers to the most frequently asked retirement savings questions.
Life Happens. Reprise is here to help.
Fixed monthly payments
Loan amounts from $2,500 to $25,000¹
Use one personal loan for multiple projects
Secured and unsecured loan options available
How do you fund moving expenses?
Personal loans
Personal loans offer a flexible and easy way to finance your moving expenses. With personal loans, funds are often disbursed directly to your checking or savings account. If approved through an online lender, you may be able to access your funds within the next business day after approval. Additionally, personal loans usually have a fixed interest rate, which means your monthly payments will stay consistent over the life of your loan.
Credit cards
Credit cards can provide another fast and easy option for financing. Credit card applications are often approved quickly and provide flexible payment options, including a minimum monthly payment amount. However, only paying the minimum monthly amount on a credit card balance may result in a longer repayment period with interest assessed on the outstanding balance.
Employer Relocation Services
If you're moving for work, your employer may also offer some financial assistance in the move. Some employers may meet you halfway, while others may offer to pay for all of the associated costs. It's best to check with your employer on available benefits and what you may qualify for.
Garage sale
Packing your things allows you to sort your possessions and figure out if there's anything you don't need. If you can sort through a few unnecessary items, having a pre-moving garage sale could help you raise money to contribute towards your move.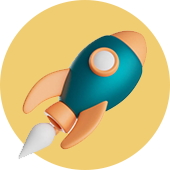 Apply today &
have your money
as soon as tomorrow.
Easy, online application
Fixed rates & clear terms
No pre-payment penalties
Fast & easy access to funds