Do you have good credit and need a personal loan?
Your credit score is one of the most important factors in qualifying for a personal loan. Lenders can use credit scores to help them determine whether you are a good candidate for a loan, and a high score indicates that you are a lower-risk borrower. This means that you're more likely to repay your loan on time and in full, which is why lenders are usually willing to offer lower interest rates and better terms to borrowers with good credit scores.
If you have good credit, you should have no problem finding a personal loan with favorable terms. Whether you are borrowing funds for a vacation, or consolidating debt, personal loans offer a flexible form of financing with quick disbursement and the ability to use the funds for almost anything you want. Reprise Financial can help you find the personal loan that's right for you with an easy online application that can quickly get applicants the funds they need with no pre-payment penalties.
What is a personal loan for "good credit?"
A personal loan for good credit is typically a loan designed to help consumers with higher credit scores fund important expenses or projects. While individuals with lower credit scores are often limited in terms of their borrowing options, those with good credit scores have access to a wide range of competitively-priced products designed specifically for their needs. These loans may offer attractive interest rates and flexible repayment terms, enabling borrowers to manage the financial burden while maximizing their opportunities for success.
Whether funding a home renovation project, consolidating high-interest debt, or paying for unexpected medical bills, a personal loan can be an invaluable resource for anyone looking to finance their goals and achieve greater financial stability.
What is considered to be "good credit?"
Good credit is typically defined as a FICO score of 670 to 739.1 A FICO score is a number lenders use to assess an individual's creditworthiness. Many factors can impact your FICO score, including your payment history, credit utilization, and length of credit history.
Scores range from 300 to 850; generally speaking, the higher the score, the more likely a borrower will repay their debt. A score of 670 to 739 is generally considered good credit, as it indicates that a borrower has a good history of making on-time payments and managing their debt.
What types of loans are available with good credit scores?
There are many different credit options that may be available to consumers with good
credit. For example, if you want to take out a home equity loan with good credit but don't have enough equity in your home, you will likely not qualify for the loan. Let's look at a few different types of loans for borrowers with good credit scores.
Personal loans via online lenders
Personal loans are a type of financing that can help individuals cover a wide range of
expenses, from large one-time purchases to recurring costs such as medical bills. Personal loans are often unsecured, meaning there is no collateral required. A borrower with good credit is a favorable candidate for lenders extending money without collateral. Offering collateral, such as your vehicle, to secure a personal loan may provide additional benefits, including a larger loan amount. One of the quickest and easiest ways to get a personal loan is via an online lender like Reprise.
HELOC
A HELOC, or home equity line of credit, is a type of loan used by homeowners to access the value of their property. Unlike typical mortgages, which provide a fixed amount of money for use over a fixed period, HELOCs are revolving loans that allow borrowers to draw on available funds as needed. Typically, these loans are secured by the equity in the homeowner's property and may be subject to specific terms and conditions set by the lender.
HELOCs often come with variable rates, so it is essential to carefully consider all possible risks and costs associated with this type of credit before making any decisions.
Credit card with no interest
Unlike traditional credit cards, which charge an annual percentage rate or APR on your
outstanding balance, a card with no interest allows you to make purchases without paying additional fees. This provides a good opportunity to consolidate existing debt or make large purchases that you might not be able to afford outright. However, with credit cards, there are often fees for transferring balances and annual fees for remaining a cardholder. Additionally, introductory 0% interest rates are variable and usually increase after the end of the promotional date.
Home equity loan
A home equity loan is an investment tool that allows homeowners to borrow money against the value of their homes. With a home equity loan, you generally receive funds upfront and make fixed monthly payments over a set repayment period. One major disadvantage of a home equity loan is that it is typically secured by your home, which means that you could lose your house if you cannot repay the loan.
Line of credit
A line of credit, or LOC, is a type of financial product that allows you to access funds on an as-needed basis. With a LOC, you typically have a set credit limit that you can draw from whenever you need cash for things like home repairs, medical expenses, or car maintenance. Unlike a typical loan, which must be repaid in full at regular intervals, a line of credit lets you make withdrawals whenever you need them and only pay interest on the outstanding balance. However, a LOC may have a set end date for new withdrawals, and making the minimum monthly payment will only cover interest assessed on your balance. You will want to consider making larger payments to reduce your balance more quickly, especially if you want to make additional withdrawals.
What are the advantages of personal loans from an online lender?
One of the significant advantages of taking out a personal loan from an online lender is the streamlined application process. Since these lenders deal primarily with online applications and documentation, the approval time for loans is often short and can be completed from the comfort of your home. Whether you are looking to make a major purchase or simply need extra cash to bridge the gap until your next paycheck, a personal loan via an online lender may be just what you need. Reprise Financial provides access to personal loans with fast funding, fixed rates, and fixed payments to fit your needs.
Reprise Resources
Check out our Resources Page for up-to-date financial tips and information.
Credit Score
Five simple steps to improve your credit score no matter where it falls on the credit report.
Loan Options
Learn the different benefits between credit cards versus installment/personal loans.
Retirement Savings
The answers to the most frequently asked retirement savings questions.
When you are ready to take control of your finances, there's Reprise.
Through Reprise Financial, getting back your financial freedom is as easy as 1-2-3.
1
Apply today
You can be pre-approved in minutes
2
Get your funds
Get your funds
as early as tomorrow
3
Cash in your pocket
Use it for the things you need or want
Why should you get a small personal loan?
To cover smaller unexpected expenses without dipping into your savings
To pay off the expense over time with fixed rates, consistent monthly payments and no pre-payment penalties
Can improve your credit score with on-time payments
Loan Offers in Seconds
View your offers in a few seconds without affecting your credit score.
Flexible Options
We have the customized options to meet your needs and your payment preferences.
Fast Access to Your Loan
Funds can be available in your checking or savings account the next business day after approval.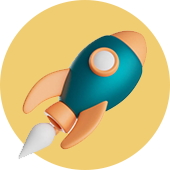 Apply today &
have your money
as soon as tomorrow.
Easy, online application
Fixed rates & clear terms
No pre-payment penalties
Fast & easy access to funds