Lenders look at more than your credit score
Personal loans offer an easy and flexible way to pay for many different expenses when you don't have the cash available. Online lenders provide fast funding with an application you can fill out from the comfort of your home. What they all have in common is that credit score is a significant factor in determining your loan's interest rate. If your credit score is fair, meaning it falls between 580 and 669,1 you may wonder what your financing options are.
The good news is that online lenders will look at the total picture of a person's application to find a product that works best for each applicant. If you have a fair credit score, limited credit background, or you've hit a few bumps along the way, Reprise can help you find the personal loan that's right for you.
What does it mean to have a fair credit score?
If you have a fair credit score, it means your score is between 580 on the low end and 669 on the high end.1 The highest score in the "fair" range is slightly below the average for the United States, which, according to FICO, is around 716.2
Do you have fair credit and need a personal loan?
While having a fair credit score may not net a borrower the most ideal interest rate, most people within this range should be able to get approved for a personal loan. Different borrowers within this range may also have an easier time getting approved than others depending on other information in your application, such as your current income. Online lenders offer an easy online application process that can get you the funds you need quickly with no pre-payment penalties.
How do personal loans work for individuals with fair credit scores?
The personal loan application process, and what is required, may vary by lender and by the type of personal loan you are requesting. In addition to filling out a standard application and providing your personal information, you may consider offering collateral, such as a vehicle, to secure the loan. In these cases, lenders will often require additional documentation, including proof of insurance and car/title registration information.
When you are ready to take control of your finances, there's Reprise.
Through Reprise Financial, getting back your financial freedom is as easy as 1-2-3.
1
Apply today
You can be pre-approved in minutes
2
Get your funds
Get your funds
as early as tomorrow
3
Cash in your pocket
Use it for the things you need or want
Have questions?
Get answers to your common questions
Reprise Resources
Check out our Resources Page for up-to-date financial tips and information.
Credit Score
Five simple steps to improve your credit score no matter where it falls on the credit report.
Loan Options
Learn the different benefits between credit cards versus installment/personal loans.
Retirement Savings
The answers to the most frequently asked retirement savings questions.
Life Happens. Reprise is
here to help.
Fixed monthly payments
Loan amounts from $2,500 to $25,0003
Use one personal loan for multiple projects or unexpected emergencies
Secured and unsecured loan options available
How do I qualify for a personal loan with a fair credit score?
To qualify for a personal loan with a fair credit score, you should be prepared to submit your personal information as well as proof of income and your financial and credit history. You should also take a look at your debt-to-income ratio (DTI). If that figure is high, evaluate whether you can decrease it by paying down some of your other outstanding debts. While your debt-to-income ratio is only one component in the evaluation process, it's a factor that can significantly impact your chances of approval.
Can I find personal loan options online with a fair credit score?
Online lenders offer various borrowing options for individuals with fair credit scores. Some online lenders specialize in working with people with fair to poor credit scores and may provide the opportunity for individuals to view potential loan offers by submitting a preliminary application. This process, known as prequalification, generally allows individuals to check for loan offers without impacting their credit score. While these loan offers are not guaranteed, the prequalification process can give individuals an overview of possible loan rates and terms with different online lenders.
How can I improve my credit score?
There are several simple things you can do to boost your score. Suppose you want to raise your credit score within just a few months. In that case, you should start by evaluating your financial history and understanding what is contributing to your credit score. You may want to request a free copy of your credit report from Annualcreditreport.com, which is maintained by the national credit reporting agencies (Experian, Equifax, and TransUnion). You can request a free copy of your report every 12 months from this website. Note that you can only review your credit report here, not your credit score.
If you have any debts that went to collections or missed bill payments, you'll want to take care of those as soon as possible. You can also take a thorough look at whether there are any inaccurate remarks on your credit report. If you find mistakes or incorrect information, you can submit a request to fix the error directly to the lender or to the national credit reporting agencies.
Additionally, if your score is low due to a lack of history and remarks, then requesting additional credit, such as applying for a new credit card and consistently paying off the account balance, could help raise your score within a short period.
How do I apply for a personal loan with a fair credit score?
To apply for a personal loan, you should first submit your personal information and required documents to your lender of choice for verification. Those documents generally include proof of income, financial history, bank statements, and any statements from your current creditors. If you're offering a co-signer, it's also important to have their financial and credit history on hand. With Reprise Financial, you can apply online from the comfort of your own home, and the funds are available the next business day after approval.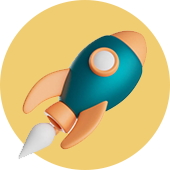 Apply today &
have your money
as soon as tomorrow.
Easy, online application
Fixed rates & clear terms
No pre-payment penalties
Fast & easy access to funds