Make your dream a reality
Most of us have a home improvement dream almost constantly in our head. Maybe it's to add that extra bathroom so your kids quit fighting over shower time, or maybe it's to finish that front porch addition so you can spend more time outdoors with your dog. Whatever your home improvement dream, a personal loan can make it a reality.
When it comes to home improvement projects, there's no need to wait until you have the cash on hand. A personal loan is a great way to cover the costs of your project without dipping into your savings or racking up credit card debt. Home improvement loans are one of the best ways to finance home improvements and there are a variety of loans available, so it's important to do your research and find one that fits your needs.
What is a home improvement loan?
Home improvement loans are a popular way to finance renovations and repairs, especially for those who don't have the savings on hand to pay for the work outright. Typically, they are installment loans with fixed repayment terms, although there are several types of loans available. Reprise Financial offers personal loans with fixed rates and no prepayment penalties that can be used for a variety of needs, including home improvement.
How do home improvement loans work?
Some home improvement loans are secured by the equity in your home, meaning your home is your collateral. These are Home Equity Loans or Home Equity Line of Credit (HELOC) loans. Because they are secured, they may have lower interest rates than unsecured loans, but they also involve more risk, including a longer application process and in many cases a set draw period with interest-only payments. Also, if you default on a Home Equity Loan, the lender may be able to foreclose on your home.
Unlike these options, Reprise offers home improvement personal loans that are customized to meet your needs and preferences. Reprise personal loans may require collateral, such as your vehicle, but they are not backed by your home and can often be repaid over a shorter period than Home Equity Loans. Plus, there is no penalty for paying off early.
Home improvement financing
Generally, personal loans can be used for almost any purpose, though restrictions may vary by lender. So, if you need to borrow money for home improvements, a personal loan may be a good option. Personal loans often have fixed interest rates and fixed monthly payments, which can make budgeting for your project easier.
When you are ready to take control of your finances, there's Reprise.
With Reprise Financial, getting back your financial freedom is as easy as 1-2-3.
1
Apply today
You can be pre-approved in minutes
2
Get your funds
Get your funds
as early as tomorrow
3
Consolidate debt
Consolidate your debt into one fixed monthly payment
What can a home improvement loan be used for?
Kitchen remodel
Remodeling your kitchen can be an exciting prospect, but it can also be a costly one. If you're planning a major kitchen renovation, you may be considering a home improvement loan to help finance the project.
Home addition
Adding a home addition can be a great way to increase your living space and add value to your home. However, it can also be a costly endeavor. If you're considering a home addition, you may be wondering if you should take out a loan to finance the project. Home improvement loans can be a good option for covering the upfront costs of an addition.
Bathroom renovation
A home improvement loan can be used for a variety of home improvement projects, including bathroom renovations. They offer a number of advantages, and since a bathroom renovation offers a good return on investment, this is a smart financial choice.
New vinyl siding
Vinyl siding is one of the most popular choices for home exterior renovation. It's durable, low-maintenance, and comes in a wide range of styles and colors. And thanks to advances in manufacturing, vinyl siding is now more energy-efficient than ever before. If you're considering a home improvement loan for your next project, new vinyl siding is a great option to consider.
Reprise Resources
Check out our Resources Page for up-to-date financial tips and information.
Life Happens. Reprise is
here to help.
Fixed monthly payments
Loan amounts from $2,500 to $25,000 ¹
Use one personal loan for multiple
projects or improvements
Secured and unsecured loan
options available
What are the benefits of home improvement loans?
Personal loans for home improvement can offer attractive interest rates and repayment terms, making them a convenient and affordable option for many homeowners. In addition, personal loans can be used for various home improvement projects, from painting and remodeling to major repairs and renovations.
How much can you borrow with a home improvement loan?
The amount that you can borrow with a home improvement loan will depend on a number of factors including your credit history and your income. Unlike Home Equity Loans or HELOCs, however, the amount you can borrow from Reprise will not be based on the value of your home.
What credit score do I need to qualify for home improvement financing?
Your credit score is one of the key factors that lenders will consider when you apply for a home improvement loan. In general, the higher your credit score, the more likely you are to be approved for a loan and to get a lower interest rate. There is not one credit score that will qualify you for a home improvement loan. Online lenders like Reprise will look at the total picture of a person's application to find a product that works best for each applicant.
What interest rate can I expect to pay with home improvement financing?
The interest rate you can expect to pay on home improvement financing depends on a number of factors, including your credit score, the type of loan you choose, and the lender you work with. Reprise Financial interest rates range from 9.99% to 36%.
How do I apply for a home improvement loan?
First, you'll need to decide how much money you need to borrow. This will depend on the cost of the materials and labor for your project.
Once you have a good idea of the total cost of the project, you will want to understand the possible interest rate, repayment terms and other conditions that lenders offer with a home improvement loan.
After researching your options, you can begin the loan application process. You'll likely need to provide some personal information, including proof of identity and income, and details about your project. Once your application is complete, the lender will verify your information and determine if you are eligible for a home improvement loan. If you are approved, the lender will contact you to complete the application process, which includes signing your loan agreement. Once finalized, you will have your loan funds in a few days and can start making improvements to your home in no time!
Are home improvement loans a good idea?
Yes! Some common uses for a home improvement loan include adding a new room, remodeling an existing space, or making energy-efficient upgrades. Homeowners may also use a home improvement loan to pay for landscaping, painting, or other cosmetic changes. In some cases, a home improvement loan can even be used to finance the purchase of new furniture or appliances. No matter how it is used, a home improvement loan can be a great way to make your house into the home of your dreams.
With Reprise Financial, you can view your loan offers in seconds, with no impact to your credit score. With loan amounts up to $25,000,¹ Reprise offers flexible repayment options that can be customized to fit your budget to help you access the funds you need to make home improvements. Reprise Loans can be funded as soon as the next business day after approval.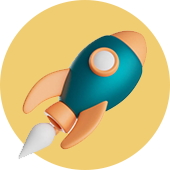 Apply today &
have your money
tomorrow.
Easy, online application
Fixed rates & clear terms
No pre-payment penalties
Fast & easy access to funds