Enjoy life's special occasions without draining your savings
Life is meant to be celebrated, especially major life events like weddings, anniversaries, and graduations. However, observing these events in a special way can get expensive. A personal loan can help you manage your costs without draining your savings.
Personal loans can give you fast funds for almost anything related to life's significant moments. Whether you are getting married, having a baby, or celebrating a graduation or anniversary – personal loan money can give you the financial flexibility you need to enjoy these special occasions. It also gives you the freedom to pay back the money over time with a little less stress. Online lenders can help you find the personal loan solution that's right for you.
Can a personal loan cover wedding costs?
Weddings are a time for joy and happiness, but they can also bring stress if you have expenses you aren't prepared for. If you're planning to get married – or have children that are – and aren't sure whether you'll be able to cover costs out-of-pocket, you might consider taking out a personal loan to finance your big day.
As up-front payments and deposits for wedding expenses stack up, a personal loan might be the best way to get the funds you need quickly. From photographers to food, beverage, entertainment, and venue, weddings can cost thousands of dollars. A wedding loan can provide a quick and easy way to access money for these expenses. You can even use personal loan money to cover other wedding-related costs like engagement rings, rehearsal dinners, and honeymoon trips.
Can you use a personal loan for graduations?
After they walk across the stage and finally receive their diploma, there's nothing better than celebrating the event with a big party, unique gift, or graduation trip. A personal loan can cover all these costs without dipping into your savings. And the good news is, once you have the funds in your hands, you can choose to use them or split them up to suit your needs. For example, you may decide to use some of the loan money to throw a big graduation party and apply the rest of your loan funds towards a fun and memorable trip with your graduate.
What are the benefits of a small personal loan?
Flexible and fast
Getting a personal loan can help you pay for expenses that you may not be able to take on out of pocket. These can be unexpected expenses which you'd otherwise have to reach into your savings account to manage. Personal loan funds could help you pay for expenses, such as graduation or wedding costs, with fixed monthly payments over a longer period of time. Additionally, a small personal loan can help you rebuild credit and potentially boost your score if you make timely payments.
Can a personal loan cover vacations?
A personal loan can be used for any travel-related expense, from airfare and hotels to rental cars and sightseeing tours. The most significant advantage of a vacation loan is that it can help you spread the cost of your trip over time, making it more affordable. Personal loans usually offer fixed rates and fixed, consistent monthly payments that make it easier to finance your dream vacation. Whether you're taking a family vacation, memorable anniversary trip, honeymoon, or solo excursion, Reprise Financial is here to help make it the trip of a lifetime.
Can you use a personal loan for the holidays?
When the holiday season rolls around, so do a lot of expenses. From gifts and holiday travel to special dinners and party wear, it may be difficult to cover all costs with cash on hand. A personal loan can help make the season a little merrier by giving you the money you need to enjoy the season and all the special occasions accompanying it.
Can a personal loan cover new baby expenses?
If you are planning (or maybe weren't planning) to have a baby soon, your expenses will likely start growing along with your family. You may need some fast funds if you want to complete your dream nursery with the perfect crib, changing table, and rocking chair. A personal loan can give you the money you need to make the transition a little easier. You can use the funds from a personal loan for health care expenses, diapers, a car seat, or maybe even a bigger car for your growing family. With a loan through Reprise, you can relax and enjoy your little bundle of joy without added stress. After all, there's no need to lose more sleep than you already are!
What other special occasions can I use a personal loan for?
So many of life's special occasions require money you often don't have on hand. Personal loans can give you the money you need when you need it. You can use loan money for travel to family reunions far away, milestone birthdays and anniversary parties, as well as funerals and celebrations of life. Once the money has been deposited in your account, you can decide how to use it. When special occasions arise, Reprise is here to help with a simple loan application, fast funding, and fixed rates.
Reprise Resources
Check out our Resources Page for up-to-date financial tips and information.
Credit Score
Five simple steps to improve your credit score no matter where it falls on the credit report.
Loan Options
Learn the different benefits between credit cards versus installment/personal loans.
Retirement Savings
The answers to the most frequently asked retirement savings questions.
When you are ready to take control of your finances, there's Reprise.
Through Reprise Financial, getting back your financial freedom is as easy as 1-2-3.
1
Apply today
You can be pre-approved in minutes
2
Get your funds
Get your funds
as early as tomorrow
3
Cash in your pocket
Use it for the things you need or want
Why should you get a small personal loan?
To cover smaller unexpected expenses without dipping into your savings
To pay off the expense over time with fixed rates, consistent monthly payments and no pre-payment penalties
Can improve your credit score with on-time payments
Loan Offers in Seconds
View your offers in a few seconds without affecting your credit score.
Flexible Options
We have the customized options to meet your needs and your payment preferences.
Fast Access to Your Loan
Funds can be available in your checking or savings account the next business day after approval.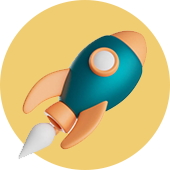 Apply today &
have your money
as soon as tomorrow.
Easy, online application
Fixed rates & clear terms
No pre-payment penalties
Fast & easy access to funds